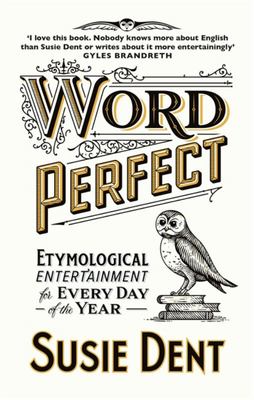 $33.00
AUD
Category: On Writing
'Susie Dent is a one-off. She breathes life and fun into words and language' Pam Ayres 'Susie Dent is a national treasure' Richard Osman Welcome to a year of wonder through the English language with Susie Dent, lexicographer extraordinaire and queen of Countdown's Dictionary Corner. From Turning a Blind Eye (Nelson putting the telescope to his missing eye to ignore the order to stop fighting) to why May Day became a distress call; from stealing someone's thunder to the real Jack the Lad, from tartle (forgetting someone's name) to snaccident (unintentionally eating a whole packet of biscuits), WORD PERFECT is her brilliant linguistic almanac full of unforgettable true stories tied to every day of the year. You'll never be lost for words again. ...Show more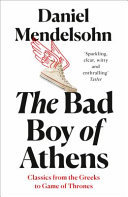 $25.00
AUD
Category: On Writing
'Mendelsohn takes the classical costumes off figures like Virgil and Sappho, Homer and Horace ... He writes about things so clearly they come to feel like some of the most important things you have ever been told.' - Sebastian Barry. Over the past three decades, Daniel Mendelsohn's essays and reviews h ave earned him a reputation as 'our most irresistible literary critic' (New York Times). This striking new collection exemplifies the way in which Mendelsohn - a classicist by training - uses the classics as a lens to think about urgent contemporary debates. There is much to surprise here. Mendelsohn invokes the automatons featured in Homer's epics to help explain the AI films Ex Machina and Her, and perceives how Ted Hughes sought redemption by translating a play of Euripides (the 'bad boy of Athens') about a wayward husband whose wife returns from the dead. There are essays on Sappho's sexuality and the feminism of Game of Thrones; on how Virgil's Aeneid prefigures post-World War II history and why we are still obsessed with the Titanic; on Patrick Leigh Fermor's final journey, Karl Ove Knausgaard's autofiction and the plays of Tom Stoppard, Tennessee Williams, and Noël Coward. The collection ends with a poignant account of the author's boyhood correspondence with the historical novelist Mary Renault, which inspired his ambition to become a writer. In The Bad Boy of Athens, Mendelsohn provokes and dazzles with erudition, emotion and tart wit while his essays dance across eras, cultures and genres. This is a provocative collection which sees today's master of popular criticism using the ancient past to reach into the very heart of modern culture. ...Show more
$25.00
AUD
Category: On Writing
The English language is changing constantly. We invent new words and phrases, we mash up idioms, we mispronounce, misuse, misappropriate. Sue Butler has heard it all and is ready to defend and disagree with common usage. Veering from tolerance to outrage, she examines how the word sheila took a nose-div e after World War II, considers whether we should hunker or bunker down, and bemoans the emptiness of rhetoric. She shouts 'down with closure' as it leaps from the psychoanalyst's couch, explains why we've lost the plot on deceptively, untangles the manuka honey stoush, fathoms why the treatment of famous is infamous, and ponders whether you would, could or should ...Rebel without a Clause is a fascinatingly idiosyncratic romp through the world of words by lexicographer and former Macquarie Dictionary Editor, Sue Butler. ...Show more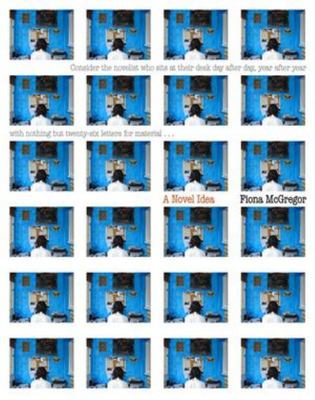 $29.95
AUD
Category: On Writing
A unique, intimate portrait of writer's working life,as experienced by one of Australia's most highly regarded novelists and artists. A Novel Idea is a memoir in photoessay form that follows Fiona McGregor's life as she writes her award-winning novel Indelible Ink. It is a tongue-in-cheek rumination on the monotony and loneliness of the novelist's daily life, and the act of endurance the writer must perform. Through an extended sequence of photographs taken on a hand-me-down camera, accompanied by terse, evocative captions, the book spans several years of labour and procrastination, elation and despair. The details of the outside world intrude as McGregor works on the novel alone in her Bondi flat, with nothing but a desk, a pin-board, a laptop and a cat, and in studio spaces in Berlin and Estonia. McGregor's voice is wry, vulnerable, at times caustic, capturing the colloquial qualities of her fiction and the durational nature of her performance art via the ephemeral and essential thoughts that take up an author's days, weeks, and years. ...Show more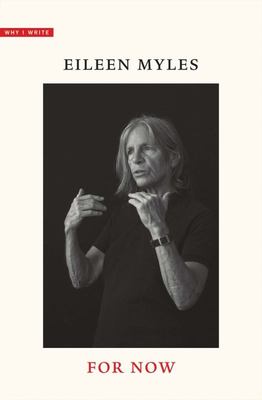 $26.95
AUD
Category: On Writing | Series: Why I Write Ser.
"[Myles] has a good time journeying through Hell, and like a hip Virgil, . . . is happy to show us the way."--NPR   In this raucous meditation, Eileen Myles offers an intimate glimpse into creativity's immediacy. With erudition and wit, Myles recounts their early years as an awakening writer; existentia l struggles with landlords; storied moments with neighbors, friends, and lovers; and the textures and identities of cities and the country that reveal the nature of writing as presence in time.   For Myles, time's "optic quality" is what enables writing in the first place--as attention, as devotion, as excess. It is this chronologized vision that enables the writer to love the world as it presently is, lending love a linguistic permanence amid social and political systems that threaten to eradicate it. Irreverent, generous, and always insightful, For Now is a candid record of the creative process from one of our most beloved artists. ...Show more
$35.00
AUD
Category: On Writing
This is an ode, a love letter, to the magic of reading. To the spark that's set off when the reader thinks ... I can do this too. Here, twenty-six writers take us through these moments of revelation through the dog-eared pages of their favourite Australian books. These writers come together to draw kno wledge from the distinctive personal and sensory stories of this country: its thefts and losses, and its imagined futures. Australian fiction shows us what it is possible to say and, perhaps, what still needs to be said. Reading Like an Australian Writer is a delightful, inspirational and heartfelt collection of essays that will enrich your reading of Australian stories and guide you in your own writing.  ...Show more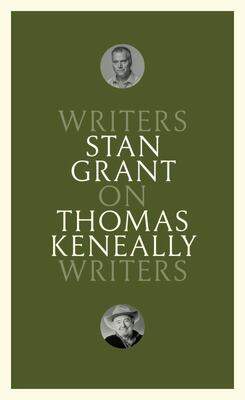 $18.00
AUD
Category: On Writing
Stan Grant is drawn to Thomas Keneally 'for many reasons- we share an Irish heritage and a complicated relationship with religion. I am especially interested in The Chant of Jimmie Blacksmith, which was a formative novel for me. My family shares a connection with the real Jimmy Governor as well. The boo k raises questions about non-Indigenous writers tackling Indigenous issues and characters.' In this eloquent, clear-eyed essay, acclaimed journalist Stan Grant sheds light on one of Australia's most controversial yet enduringly relevant novels. In the Writers on Writers series, leading authors reflect on an Australian writer who has inspired and fascinated them. Provocative and crisp, these books start a fresh conversation between past and present, shed new light on the craft of writing, and introduce some intriguing and talented authors and their work. Published by Black Inc. in association with the University of Melbourne and State Library Victoria. ...Show more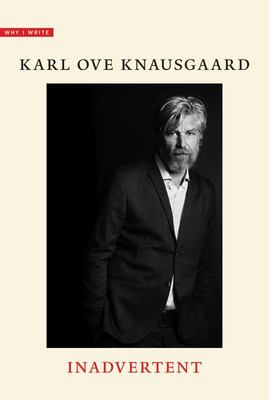 $28.00
AUD
Category: On Writing | Series: Why I Write Ser.
The second book in the Why I Write series provides generous insight into the creative process of the award-winning Norwegian novelist Karl Ove Knausgaard "Why I Write" may prove to be the most difficult question Karl Ove Knausgaard has struggled to answer yet it is central to the project of one of the most influential writers working today. To write, for the Norwegian artist, is to resist easy thinking and preconceived notions that inhibit awareness of our lives. Knausgaard writes to "erode [his] own notions about the world. . . . It is one thing to know something, another to write about it." The key to enhanced living is the ability to hit upon something inadvertently, to regard it from a position of defenselessness and unknowing. A deeply personal meditation, Inadvertent is a cogent and accessible guide to the creative process of one of our most prolific and ingenious artists. ...Show more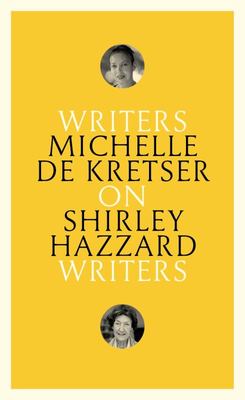 $18.00
AUD
Category: On Writing
'Hazzard was the first Australian writer I read who looked outwards, away from Australia. Her work spoke of places from which I had come and places to which I longed to go ... It was reading as an affair of revelations and gifts. It fell like rain, greening my vision of Australian literature as a stony country where I would never feel at home. Splendour had entered the scene.' In this vibrant, rich and personal essay on acclaimed author Shirley Hazzard, Michelle de Kretser offers a masterclass in writing that is powerful and exhilarating, that is 'perfect' because it is 'exact'. She celebrates the precision and musicality of Hazzard's prose and illuminates the humour, humanity and revelatory impact of her work. This jewel of a book is both a wonderful introduction to Hazzard and a treat for her long-time fans. ...Show more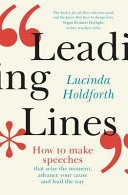 $35.00
AUD
Category: On Writing
How to make speeches that seize the moment, advance your cause and lead the way. For those who aim to be leaders, mastering the power of speechmaking - the art and craft of persuasion - is more important than ever. If you want to be heard, it's not enough to have something to say: you must know how to s ay it. For those who aim to be leaders, mastering the power of speechmaking - the art and craft of persuasion - is more important than ever. If you want to be heard, it's not enough to have something to say: you must know how to say it. Leading Lines is about words and their power to change our world. The right words can be transformative. They can stir a heart or reimagine the world. One of Australia's leading speechwriters, Lucinda Holdforth gives detailed practical advice on how to write speeches that are true, credible, fresh and persuasive. Along the way she analyses numerous leadership speeches from an insider's perspective, offering original insights into the speechmaking process. And she argues for the essential role of speeches in modern democracies. This is not only a practical manual for crafting a powerful speech, it's a cracking read. PRAISE 'A book for anyone who aspires to a leadership role. Holdforth draws on her formidable expertise and experience working with CEOs like me to deliver this practical guide to the creation of leadership speeches.' Geoff Dixon, CEO and Managing Director of Qantas, 2000-2008 'This book is for all those who love words and the power they have to change lives. Leading Lines will be an indispensable tool for CEOs and speechwriters of every kind, it is also, quite simply, a cracking read, attractive to anyone who likes a good story' Tegan Bennett Daylight ...Show more
$18.00
AUD
Category: On Writing
Beverley Farmer's novels and short stories focus on loss, migration and homecoming. In this beautifully hewn essay, fellow novelist and short-story writer Josephine Rowe finds a kindred spirit and argues for a celebration and reclamation of this long-neglected Australian writer. In the Writers on Write rs series, leading authors reflect on an Australian writer who has inspired and fascinated them. Provocative and well-written, these books start a fresh conversation between past and present, shed new light on the craft of writing, and introduce some intriguing and talented authors and their work. The Writers on Writers series is published by Black Inc. in association with the University of Melbourne and State Library Victoria. ...Show more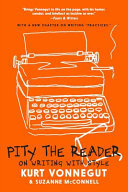 $35.00
AUD
Category: On Writing
Kurt Vonnegut used to like to say, "Practicing an art form is a way to grow your soul." He would screw up his lips into a prune face after he said this because of how important he believed this idea to be. Pity the Reader is the very embodiment of that idea, a book about writing and life and why the two go together.It includes rare photos and reproductions, Vonnegut's own account in his own words of how he became a writer and why it matters, and previously untold stories by and about Vonnegut as teacher and friend.   It turns out he was generous to a fault about students' writing, idiosyncratic, a bit tortured and always creative as a teacher, and here in this book that portrait becomes our gateway into getting to know Kurt Vonnegut better than we ever have before as a human being.   Vonnegut recounts that his favorite work of art among all those his children produced "so far" is a letter his daughter Nanette wrote to a disgruntled customer, after he had tormented a new waitress at the restaurant where she had just started working, and then he shares the letter with us. Thus he illustrates his first writing rule: "Find a subject you care about." This book is full of such rare, intimately teachable moments, and they add up to something special. Pity the Reader indeed. ...Show more