Rage
by Bob Woodward
$50.00
AUD
Category: Political
Bob Woodward's new book, Rage, is an unprecedented and intimate tour de force of original reporting on the Trump presidency. Rage goes behind the scenes like never before, with stunning new details about early national security decisions and operations and Trump's moves as he faces a global pandemic, e conomic disaster and racial unrest. Woodward, the #1 internationally bestselling author of 13 #1 bestsellers, including Fear: Trump in the White House, shows Trump up close in his entirety before the 2020 presidential election. President Trump has said publicly that Woodward has interviewed him. What is not known is that Trump provided Woodward a window into his mind through a series of exclusive interviews. At key decision points, Rage shows how Trump's responses to the crises of 2020 were rooted in the instincts, habits and style he developed during his first three years as president. Rage draws from hundreds of hours of interviews with firsthand witnesses, as well as participants' notes, emails, diaries, calendars and confidential documents. Woodward obtained 25 personal letters exchanged between Trump and North Korean leader Kim Jong Un that have not been public before. Kim describes the bond between the two leaders as out of a "fantasy film," as the two leaders engage in an extraordinary diplomatic minuet. Rage will be the foundational account of the Trump presidency, its turmoil, contradictions and risks. It is an essential document for any voter seeking an accurate inside view of the Trump years - volatile and vivid.   ...Show more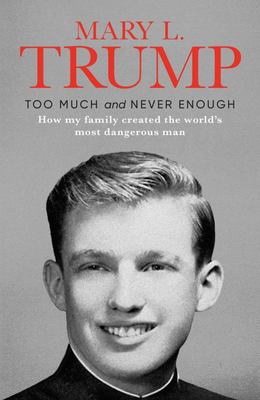 $33.00
AUD
Category: Political
In this revelatory, authoritative portrait of Donald J. Trump and the toxic family that made him, Mary L. Trump, a trained clinical psychologist and Donald's only niece, shines a bright light on the dark history of their family in order to explain how her uncle became the man who now threatens the world 's health, economic security and social fabric.   Mary Trump spent much of her childhood in her grandparents' large, imposing house in New York, where Donald and his four siblings grew up. She describes a nightmare of traumas, destructive relationships and a tragic combination of neglect and abuse. She explains how specific events and general family patterns created the damaged man who currently occupies the Oval Office, including the strange and harmful relationship between Fred Trump and his two oldest sons, Fred Jr. and Donald.   A first-hand witness, Mary brings an incisive wit and unexpected humour to sometimes grim, often confounding family events. She recounts in unsparing detail everything from her uncle Donald's place in the family spotlight and Ivana's penchant for regifting to her grandmother's frequent injuries and illnesses and the appalling way Donald, Fred Trump's favourite son, dismissed and derided him when he began to succumb to Alzheimer's.   Numerous pundits, armchair psychologists and journalists have sought to explain Donald Trump's lethal flaws. Mary Trump has the education, insight and intimate familiarity needed to reveal what makes Donald, and the rest of her clan, tick. She alone can recount this fascinating, unnerving saga, not just because of her insider's perspective but also because she is the only Trump willing to tell the truth about one of the world's most powerful and dysfunctional families.     ...Show more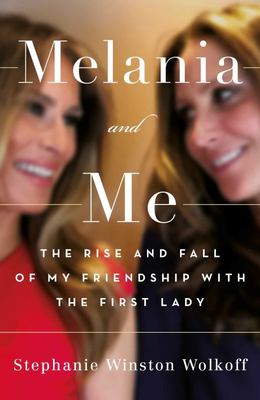 Melania and Me
by Stephanie Winston Wolkoff
$40.00
AUD
Category: Political
A revealing and explosive portrayal of Stephanie Winston Wolkoff's fifteen-year friendship with Melania Trump and observations of the most chaotic White House in history.
$55.00
AUD
Category: Political
When Malcolm Turnbull took over the nation's top job there was a sense of excitement in Australia. Sky-high opinion polls followed as the political outsider with a successful business, legal and media career took charge. The infighting that had dogged politics for the best part of a decade looked to be over. But a right-wing insurgency brutally cut down Turnbull's time in office after three years, leaving many Australians asking, 'Why?' Exceptionally candid and compelling, A Bigger Picture is the definitive narrative of Malcolm Turnbull's prime ministership. He describes how he legalised same-sex marriage, established Snowy Hydro 2.0, stood up to Donald Trump, and many more achievements – remarkable in their pace and significance, and delivered in the teeth of so much opposition. But it's far more than just politics. Turnbull's life has been filled with colourful characters and controversies, success and failure. From his early years in Sydney, growing up with a single father, to defending 'Spycatcher' Peter Wright against the UK government; the years representing Kerry Packer, leading the Republican Movement and making millions in business; and finally toppling Tony Abbott to become prime minister of Australia. For the first time he tells it all – in his own words. With revelatory insights on the workings of Canberra and the contentious events of Turnbull's life, A Bigger Picture explores the strengths and vulnerabilities of one of Australia's best-known and most dynamic business and political leaders. Lyrically written in highly readable and entertaining prose, this is a genuine page-turner that's not just for political junkies.     ...Show more
$50.00
AUD
Category: Political
An intimate, powerful, and inspiring memoir by the former First Lady of the United States   In a life filled with meaning and accomplishment, Michelle Obama has emerged as one of the most iconic and compelling women of our era. As First Lady of the United States of America--the first African American to serve in that role--she helped create the most welcoming and inclusive White House in history, while also establishing herself as a powerful advocate for women and girls in the U.S. and around the world, dramatically changing the ways that families pursue healthier and more active lives, and standing with her husband as he led America through some of its most harrowing moments. Along the way, she showed us a few dance moves, crushed Carpool Karaoke, and raised two down-to-earth daughters under an unforgiving media glare.   In her memoir, a work of deep reflection and mesmerizing storytelling, Michelle Obama invites readers into her world, chronicling the experiences that have shaped her--from her childhood on the South Side of Chicago to her years as an executive balancing the demands of motherhood and work, to her time spent at the world's most famous address. With unerring honesty and lively wit, she describes her triumphs and her disappointments, both public and private, telling her full story as she has lived it--in her own words and on her own terms. Warm, wise, and revelatory, Becoming is the deeply personal reckoning of a woman of soul and substance who has steadily defied expectations--and whose story inspires us to do the same. ...Show more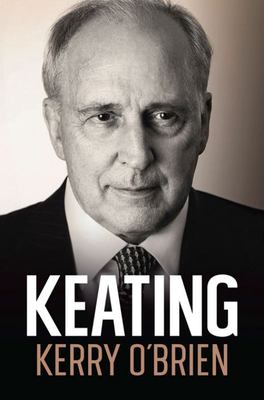 Keating
by Kerry O'Brien
$50.00
AUD
Category: Political
Paul Keating is widely credited as the chief architect of the most significant period of political and economic reform in Australia's history. Twenty years on, there is still no story from the horse's mouth of how it all came about. No autobiography. No memoir. Yet he is the supreme story-teller of poli tics. This book of revelations fills the gap. Kerry O'Brien, the consummate interviewer who knew all the players and lived the history, has spent many long hours with Keating, teasing out the stories, testing the memories and the assertions. What emerges is a treasure trove of anecdotes, insights, reflections and occasional admissions from one of the most loved and hated political leaders we have known - a man who either led or was the driving force through thirteen years of Labor government that changed the face of Australia. This is a man who as prime minister personally negotiated the sale of a quarter of the government-owned Qantas in his own office for $665 million, then delighted in watching the buyer's hand shake so much that champagne spilt down his shirtsleeve. He tells of his grave moment of doubt after making one of the riskiest calls of his political life, and how he used an acupuncturist and a television interviewer to seize the day. There are many stories of this kind. The revealing inside stories and even glimpses of insecurities that go with the wielding of power, from a man who had no fear collecting his share of enemies and ended up with more than enough, but whose parliamentary performances from 25 years ago are watched avidly on YouTube today by a generation that was either not yet born or in knee pants when he was at his peak. We'll never get an autobiography or a memoir from Keating. This is as good as it gets - funny, sweeping, angry, imaginative, mischievous, with arrogance, a glimmer of humility and more than a touch of creative madness. Keating unplugged. ...Show more
$35.00
AUD
Category: Political
Christopher Pyne has been many things and called many things throughout his long career in politics. Member for Sturt. Minister for Defence. Manager of Opposition Business. Leader of the House. 'The Fixer'. Any Canberra story he doesn't know isn't worth telling.     Now, after 26 years, the ultimate ins ider is outside the House and ready to burst the Canberra bubble with his trademark sharp wit. His revelations of dealings, double dealings, friendships and feuds shine a light on the political processes of those in power: the egos, the sacrifices, the winners, the losers, the triumphs and the failures. From Howard to Rudd, Gillard, Abbott, Turnbull and Morrison, Christopher Pyne has seen and heard it all. The Insider is one of the most brilliant, funny, engaging books by an Australian public figure you'll ever read. ...Show more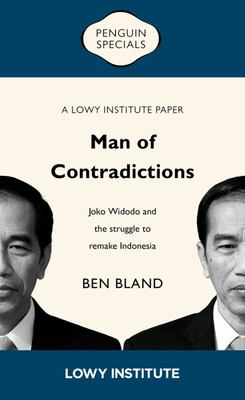 $13.00
AUD
Category: Political
Although he has dominated Indonesian politics for years, President Joko Widodo remains a beguiling figure. He has consistently defied both his sternest critics and his strongest supporters. A brilliant instinctive politician, Jokowi, as he is known, was resoundingly re-elected in 2019. However, he has s truggled to turn success at the ballot box into the transformational change that Indonesia desperately needs. Jokowi has vowed to turn the world's fourth most populous nation into an Asian powerhouse with a strong economy and the heft to defend its international interests at a time of renewed US-China rivalry. Progress has been slow, however. And the scale of the challenge is increasing, at home and abroad. As he gets to work in his second and final term, will Jokowi deliver on his grand ambitions? Or will Indonesia once more fall short of expectations? Man of Contradictions, the first English-language political biography of Jokowi, will examine how he became so popular, what makes him tick, and why he will struggle to remake Indonesia. The key to understanding Jokowi lies not in uncovering some core inner convictions but in embracing his contradictions. He rose from obscurity thanks to Indonesia's free and fair elections, but he has been a poor guardian of democracy. As an outsider he promised to shake up the corrupt and nepotistic elite, but he has become a consummate transactional politician. As a former factory owner, he pledged to open up the economy to foreign investors, but he has pursued a campaign of nationalisation and prioritised state-owned companies. Ultimately, the conflicts within Jokowi reflect the profound tensions in a young democracy that is still trying to escape a legacy of colonial oppression and domestic dictatorship, and make its own way in the world. ...Show more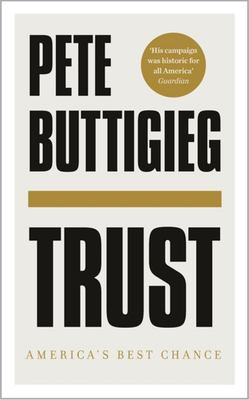 $33.00
AUD
Category: Political
'His campaign was historic for all America' Guardian Trust will be our essential tool as we face unique challenges of the decades ahead. In a century warped by terrorism, Trumpism, financial collapse, populism, systemic racism, Russian interference and a global pandemic, trust within and among nations has been squandered, sacrificed, abused, stolen, or never properly built in the first place. In a piercing exploration of the soul of the American nation involving history, philosophy and memoir, former presidential candidate Pete Buttigieg explores the strong relationship between prosperity and social trust. Our success, or failure, in confronting the greatest challenges of the decade - racial and economic justice, pandemic resilience, and climate action - will rest on whether we can effectively cultivate, deepen and repair the networks of trust that are now endangered, or for so many, have never even existed. This means trust in institutions, in each other, and in the democratic project itself. ...Show more
$35.00
AUD
Category: Political
What is it like to be a wife of a politician in modern-day Britain? Sasha Swire finally lifts the lid. For more than twenty years she has kept a secret diary detailing the trials and tribulations of being a political plus-one, and gives us a ringside seat at the seismic political events of the last dec ade. A professional partner and loyal spouse, Swire has strong political opinions herself - sometimes more 'No, Minister' than 'Yes'. She detonates the stereotype of the dutiful wife. From shenanigans in Budleigh Salterton to state banquets at Buckingham Palace, gun-toting terrorist busters in pizza restaurants to dinners in Downing Street sitting next to Boris Johnson, Devon hedges to partying with City hedgies, she observes the great and the not-so-great at the closest of quarters. The results are painfully revealing and often hilariously funny. Here are the friendships and the fall-outs, the general elections and the leadership contests, the scandals and the rivalries. Swire showed up, shored up and rarely shut up. She also wrote it all down. Diary of an MP's Wife is a searingly honest, wildly indiscreet and often uproarious account of what life is like in the thick of it. ...Show more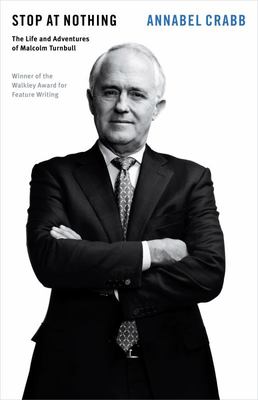 $23.00
AUD
Category: Political
In Stop at Nothing Annabel Crabb brings all her wit and perceptiveness to the story of Malcolm Turnbull. This is a memorable look at the Prime Minister in action - his flaws and achievements - as well as his past lives and adventures.   Drawing on extensive interviews with Turnbull, Crabb delves into his university exploits - which included co-authoring a musical with Bob Ellis - and his remarkable relationship with Kerry Packer, the man for whom he was first a prized attack dog and then a mortal enemy. She examines the extent to which Turnbull - colourful, aggressive, humorous and ruthless - has changed.   Crabb tells how he first lost, and then won back, the Liberal leadership, and explores the challenges that now face him today as the forward-looking leader of a conservative Coalition.   'The most incisive portrait of Turnbull that's been written.' -David Marr   Annabel Crabb is one of Australia's most popular political commentators, is the presenter of Kitchen Cabinet and writes for The Drum. ...Show more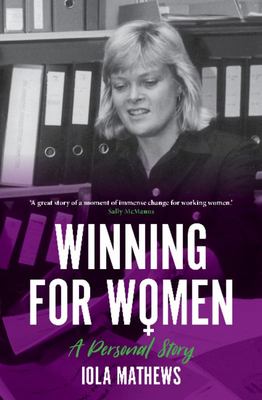 $29.95
AUD
Category: Political | Series: Biography Ser.
What was it like to be involved in the heady days of 'second wave' feminism in Australia, when the role of women at home and at work changed decisively? Iola Mathews was one of the founders of the Women's Electoral Lobby, a journalist at The Age, and later a leading ACTU advocate for women workers durin g the 'Accord' with the Hawke-Keating Government. She was one of the first generation of women trying to 'have it all' with a career and children. In this honest and revealing memoir, she takes us inside the day-to-day groundwork required to bring about reforms in areas like affirmative action, equal pay, superannuation, childcare, parental leave and work-family issues. This is an important record of a pivotal time for women in Australia's history. Iola brings wisdom and experience to it, reflecting on where we are today, with suggestions for further reform. It's a vital source for policy makers and all those interested in women, work and families. ...Show more