$60.00
AUD
Category: Gardens | Series: Kinfolk Ser.
Since the launch of its magazine in 2011, Kinfolk has grown into an internationally recognized brand known for its minimalist aesthetic and strong community of inspiring and influential creatives. Kinfolk's books, with a combined 335,000 copies in print, have applied this lens to cooking, home design, and work. Now, in The Kinfolk Garden, the team turns its eye to outdoor spaces and the many ways they enhance our lives and help us foster community. With a focus on spaces that bring the outdoors in and the indoors out and people who have found ways to expertly incorporate the natural world into their lives, the book explores the garden as a place for work, play, entertaining, and inspiration. Featuring 30 homeowners and their spaces in locations around the globe, The Kinfolk Garden offers an easy approach to bringing nature home. ...Show more
$60.00
AUD
Category: Interiors
As an architecture photographer, Nicole England found that the shoots she enjoyed the most were the ones where dogs were present - nothing lightens the mood like a nonchalant pup. However imposing the architecture, some doggy hijinks can immediately bring an element of sociability and fun. With this in mind, Nicole set about setting up her instagram, Resident Dog, and now this book, Resident Dog Around the World, which showcases over 25 of the world's most amazing houses, and thedogs that live there. Photographing dogs is not always straightforward, because they don't always cooperate! The result is that these images end up with a looser, more spontaneous style. Just as every home is different, so is every dog. The photographs showcase incredible, amazing architecture and capture the personality of the idiosyncratic personality of each canine. Take a wander around the world's most stunning homes, from Mexico to Sydney, London, New York and LA, with the home pooch as your tour guide. Eachhome will feature several photographs, and an interview with the architect or home owner. ...Show more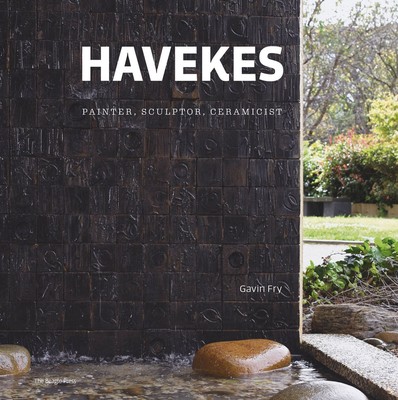 $99.00
AUD
Category: Art
'Gerard Havekes was outrageously big in every way – he was a mighty, creative force. A big, tall man, who commanded attention by his very presence, a man who embraced life with gusto. Wherever he went he would inevitably, naturally dominate the space, ruling over his domain at home or in his work space with authority, charming his clients or entertaining gatherings of friends, students, artists, architects, writers, academics. He was like a magnet, a true artist with a European heart, an impressive knowledgeable speaker, a mighty creative force. Arrogant, intelligent, opinionated, and always interesting, one certainly couldn't ignore his presence. His deep voice, with its heavy Dutch overtones would resonate, dominating the conversation, as he freely expressed his views on the unimpressive state of the arts in Australia, while delighting us with his extensive knowledge of the arts and literature world-wide, his political and historical awareness, and fascinated us with stories of his extraordinary war experience in Indonesia and Holland.' This is how Babette Hayes describes Gerard Havekes whom she met in 1968 and became a great friend. Havekes had already established himself in the Australian art world with some remarkable constructions. He arrived in Australia in 1950 from Indonesia and by 1953 he was exhibiting in the Blake and Archibald Prizes. He acquired many loyal friends from all parts of the world, including John Olsen who has written the foreword to this book. Gavin Fry's text places Havekes in exciting times, both for Australian art and the broader nation, in the boom years after World War Two. The evolution of this multi-talented artist, who was accorded a Retrospective in 1981 at the prestigious Philips Centre in Eindhoven, highlights the diversity and cultural richness that European migration brought to Australia. The book covers the many phases in Havekes' work, finishing with the masterly fountain he made in 1999 for a private house, his last and probably greatest work. ...Show more
$45.00
AUD
Category: Interiors | Series: A Day at
A comprehensive tour of the magnificent Ch teau de Chantilly, its superlative art collection, important stables, and beautiful gardens. The Domaine de Chantilly is an exceptional treasure of French culture and heritage, rebuilt after the Revolution by Henri d'Orl ans, duc d'Aumale--son of King Louis-Phi lippe--as a home and museum for his unrivaled collection of furniture, decorative arts, books, and paintings. These constitute the Cond Museum's extensive galleries--second only to the Louvre in France--with masterpieces including paintings by Raphael, Clouet, Poussin, and Ingres; the illuminated manuscript Les Tr s Riches Heures du Duc de Berry; furniture; porcelains; drawings; and early photographs. Chantilly's elegant private apartments, kept precisely as they were during the duc d'Aumale's lifetime, are beautifully preserved examples of the uniquely French Louis Philippe style; its recently restored garden was designed by celebrated landscape architect Andr Le N tre; and the still-active Great Stables are the largest and most opulent in Europe. This slipcased volume offers rare access to one of France's most complete and beautiful stately homes and its world-class art collection that is carefully conserved today by the Institut de France. ...Show more
$40.00
AUD
Category: Interiors
Colour has an enormous impact on our connection with an object. This curated anthology of furniture, fabric, lights and decorative objects shows how colour has defined key designs over the last century. A Century of Colour in Design delivers an incisive, shortform history of the role that colour has pla yed in product design and its increasing significance in the design process. Design writer David Harrison profiles key designers and their work with colour, including: Josef and Anni Albers, Alexander Girard, Verner Panton, Alessandro Mendini, Hella Jongerius, Doshi Levien (Nipa Doshi & Jonathan Levien), Scholten & Baijings (Stefan Scholten & Carole Baijings), Bethan Laura Wood and Australian top talent Adam Goodrum. ...Show more
$70.00
AUD
Category: Gardens
The Australian garden was born mid-century, a time of postwar confidence and growing national identity. Gardens became outdoor rooms for recreation and healthy living - removing the barriers between inside and out - and bold designs celebrated native Australian plants. The mid-century modern aesthetic h as seen a revival in recent years, with contemporary garden designers reinterpreting the optimism, innovation and independence of that era. The gardens in Living Outside speak to an Australia that draws on the confidence of the last century while pushing the boundaries of experimentation, all to rise to the environmental and social challenges of today. The featured projects embrace their unique surrounding landscapes, from coastal cliffs and expansive grassland to tropical forest and even urban neighbourhoods. They also reflect a return to modernism - not just the look and feel, but also the functionality and values of invention, conservation, wellbeing.These gardens are more than just ornamental backdrops: they provide shade for neighbourhoods, food for pollinating insects, habitat for wildlife, hubs for both social interaction and moments of respite. They are platforms for research into resilient futures, experiments in sustainability and places for families to grow. They have been designed in response to their contexts and exemplify the singular and joyous spaces that can result from a deep appreciation of place.   ...Show more
$100.00
AUD
Category: Gardens
An A-to-Z compendium of more than 200 garden elements, styles, features, and ornaments for gardeners around the globe Following the bestselling The Gardener's Garden, garden expert and historian Toby Musgrave explores the creative art of garden-making through more than 200 elements and features. This i s the ultimate reference guide, with entries ranging from Allée and Bower to Formal, Native Planting, and Xeriscape -- each illustrated with examples drawn from historic and contemporary gardens around the world. Whether tending an English cottage garden or a Japanese Zen landscape, gardeners and garden lovers everywhere will be inspired as never before. ...Show more
$50.00
AUD
Category: Art
If anyone can teach us how to pursue the life and work of an artist, it is the artists in Truth Bomb. This compilation of pioneering and established women artists from around the world will motivate and empower you, challenge you to find solace in the shared human experiences of birth, death, love, ange r, joy, sadness. Their sassiness will fire your spirit. Truth Bomb offers the very best commentary and insight into the incredible formation of diverse women artists while uncovering the power of taking a chance, pushing the envelope and ultimately not being shy when it comes to making a mark. It is a magical visual mash-up of images, memoirs, moments, interviews and inspirational beginnings as told by twenty-two leading women artists, including Beci Orpin, Mickalene Thomas, Kaylene Whiskey and Judy Chicago. Truth Bomb is an ode to art and artists and an attempt to decipher the mystery of creativity. ...Show more
$65.00
AUD
Category: Interiors
Following the successful Hare + Klein: Texture Colour Comfort and compact edition comes a completely new book - Hare + Klein: Interior. This book from the Sydney multi award winning team of interior designers, showcases their signature use of texture, colour and scale in responsive interior design that has defined their practice to date. Featuring alluring photography, architectural sketches, fabric swatches and mood boards for fourteen properties this second book offers further insight into their design decisions and the stunning, timeless homes that they produce.   ...Show more
$100.00
AUD
Category: Fashion | Series: Catwalk
The best-selling Chanel Catwalk was the first book to gather every Chanel collection ever created by Karl Lagerfeld in a single volume - a unique opportunity to chart the development of one of the world's most influential fashion brands and discover rarely seen collections. Now fully updated (with twen ty-two new collections) and concluding with Lagerfeld's final collection for the house, the book will be a lasting tribute to Karl Lagerfeld's Chanel. This definitive publication opens with a concise history of Karl Lagerfeld's time at Chanel and a brief biographical profile of the designer. It goes on to explore the collections themselves, organized chronologically. Each collection is introduced by a short text unveiling its influences and highlights, and illustrated with carefully curated catwalk images, showcasing hundreds of spectacular clothes, details, accessories, beauty looks and set designs - and of course the top fashion models who wore them on the runway. A rich reference section, including an extensive index, concludes the book. ...Show more
$50.00
AUD
Category: Photography
Is it possible to describe a photograph without interpreting it? Can a viewer ever be as dispassionate as the mechanism of a camera? And how far can a photographer's intentions determine responses to their image, decades after it was made? These are just a few questions that David Campany eloquently add resses in On Photographs. In the tradition of Susan Sontag and John Berger, Campany explores the tensions inherent to the photographic medium - between art and document, chance and intention, permanence and malleability of meaning - as well as the significance of authorship, performance, time and reproduction. On Photographs is destined to become an instant classic of photography writing. Rejecting the conventions of chronology and the heightened status afforded to 'classics' in traditional accounts of the history of the medium, Campany's selection of photographs is an expertly curated and personal one - mixing fine art prints, film stills, documentary photographs, fashion editorials and advertisements. In this playful new take on the history of photography, anonymous photographers stand alongside photography pioneers, 20th-century talents and contemporary practitioners. Each photograph is accompanied by Campany's highly readable commentary. Putting the sacred status of authorship to one side, he strives to guide the reader in their own interpretation and understanding of the image itself. In a visual culture in which we have become accustomed to not looking, Campany helps us see, in what is both an accessible introduction for newcomers and a must-have for photography aficionados. ...Show more
$70.00
AUD
Category: Art | Series: Biography and Autobiography Ser.
The second half of William Feaver's Baillie Gifford Prize-shortlisted work of biography- the definitive story of the epic life of one of the twentieth century's most important artists William Feaver, Lucian Freud's collaborator, curator and close friend, knew the unknowable artist better than most. Ove r many years, Freud narrated to him the story of his life, 'our novel'. Fame follows Freud at the height of his powers, painting the most iconic works of his career in a constant and dissatisfied pursuit of perfection, just outrunning his gambling debts and tailor's bills. Whether tattooing swallows at the base of Kate Moss's back or exacting a strange and horrible revenge on Jerry Hall and Mick Jagger, Freud's adventures were always perfectly characteristic. An enfant terrible till the end, even as he was commissioned to paint the Queen and attended his own retrospectives, what emerges is an artist wilfully oblivious to the glitter of the world around and focussed instead on painting first and last. 'As entertaining, and full of twists and turns, as a picaresque novel It has amazing zip and gusto, and leaves you wanting more' CRAIG BROWN, MAIL ON SUNDAY 'Freud and Feaver seize you by the elbows, bundle you into a Bentley, haul you round the nightclubs, feed you oysters, Guinness and amphetamines and order you Russian tea and eggs the next morning. I didn't know whether I'd been roughed up or ravished' THE TIMES, BOOK OF THE WEEK 'As gossipy and strange as the man himself Brilliant' LYNN BARBER, DAILY TELEGRAPH   ...Show more