$60.00
AUD
Category: Gardens | Series: Kinfolk Ser.
Since the launch of its magazine in 2011, Kinfolk has grown into an internationally recognized brand known for its minimalist aesthetic and strong community of inspiring and influential creatives. Kinfolk's books, with a combined 335,000 copies in print, have applied this lens to cooking, home design, and work. Now, in The Kinfolk Garden, the team turns its eye to outdoor spaces and the many ways they enhance our lives and help us foster community. With a focus on spaces that bring the outdoors in and the indoors out and people who have found ways to expertly incorporate the natural world into their lives, the book explores the garden as a place for work, play, entertaining, and inspiration. Featuring 30 homeowners and their spaces in locations around the globe, The Kinfolk Garden offers an easy approach to bringing nature home. ...Show more
$60.00
AUD
Category: Interiors
As an architecture photographer, Nicole England found that the shoots she enjoyed the most were the ones where dogs were present - nothing lightens the mood like a nonchalant pup. However imposing the architecture, some doggy hijinks can immediately bring an element of sociability and fun. With this in mind, Nicole set about setting up her instagram, Resident Dog, and now this book, Resident Dog Around the World, which showcases over 25 of the world's most amazing houses, and thedogs that live there. Photographing dogs is not always straightforward, because they don't always cooperate! The result is that these images end up with a looser, more spontaneous style. Just as every home is different, so is every dog. The photographs showcase incredible, amazing architecture and capture the personality of the idiosyncratic personality of each canine. Take a wander around the world's most stunning homes, from Mexico to Sydney, London, New York and LA, with the home pooch as your tour guide. Eachhome will feature several photographs, and an interview with the architect or home owner. ...Show more
$25.00
AUD
Category: Picture Books
There is a lot to learn about being a ballerina. It is hard work and can seem silly at times. But when you walk out on the stage, it's like magic and fireworks and Christmas-tree lights in your tummy.   From the team behind the best-selling All of the Factors of Why I Love Tractors comes a cheeky story about discovering the joys of dance.  ...Show more
$33.00
AUD
Category: Fiction
It is 1953 and Melbourne society is looking forward to coronation season, the grand balls and celebrations for the young queen-to-be. Tilly Dunnage is, however, working for a pittance in a second-rate Collins Street salon. Her talents go unappreciated, and the madame is a bully and a cheat, but Tilly ha s a past she is desperate to escape and good reason to prefer anonymity. Meanwhile, Sergeant Farrat and the McSwiney clan have been searching for their resident dressmaker ever since she left Dungatar in flames. And they aren't the only ones. The inhabitants of the town are still out for revenge (or at least someone to foot the bill for the new high street). So when Tilly's name starts to feature in the fashion pages, the jig is up. Along with Tilly's hopes of keeping her secrets hidden... ...Show more
Sing Me the Summer
by Jane Godwin; Alison Lester (Illustrator)
$25.00
AUD
Category: Picture Books
Splash into summer with this glorious love letter to the seasons. Combining Jane Godwin's sparkling text and Alison Lester's whimsical watercolours, Sing Me the Summer celebrates those precious everyday moments that stay with us forever.
$40.00
AUD
Category: Food
The much-requested second collection of best-loved and requested recipes from the stellar Good Food team. More than 100 classic recipes are given a fresh, extra delicious twist by eight ​of Australia's ​best-loved chefs.​Katrina Meynink adds toasted seeds and pomegranate to her sweet potato, carrot and cumin soup. Kylie Kwong shares her heavenly Vegetarian special fried rice. Adam Liaw infuses slow cooked lamb with Tunisian flavours. The schnitty goes meat-free with Jill Dupleix's inspired eggplant schnitzel with leek pickles and labna. Neil Perry gives us a chicken Kiev with garlic butter that is baked instead of fried. Danielle Alvarez has updated the salad Lyonainasie with shredded cabbage and mustard greens. Andrew McConnell's addictive spiced hot cross buns have some sour dried cherries added to the mix. And Helen Goh's Irish coffee cake has Bailey's Irish Cream in the filling! Created for home cooks, these are inspirational, easy weeknight dinners, along with plenty of delicious dishes to impress your guests.​ Classic and new classic recipes by Australia's leading chefs as seen and cooked by Good Food fans all over Australia. Contributors: Danielle Alvarez, Jill Dupleix, Helen Goh, Kylie Kwong, Adam Liaw, Andrew McConnell, Katrina Meynink and Neil Perry.   ...Show more
$33.00
AUD
Category: Crime
The edge-of-your-seat, heart-in-mouth new Jack Reacher thriller for 2020 - his 25th adventure.  Jack Reacher gets off the bus in a sleepy no-name town outside Nashville, Tennessee. He plans to grab a cup of coffee and move right along. Not going to happen. The town has been shut down by a cyber attac k. At the centre of it all, whetherhe likes it or not, is Rusty Rutherford. He's an average IT guy, but he knows more than he thinks. As the bad guys move in on Rusty, Reacher moves in on them . . . And now Rusty knows he's protected, he's never going to leave the big man's side. Reacher might just have to stick around and find out what the hell's gone wrong . . . and then put it right, like only he can. ...Show more
$30.00
AUD
Category: Contemporary Thought
We live in a society where work defines who we are, what we do and who we spend our time with. But this wasn't always the case. For 95% of our history, our ancestors had a radically different view of its importance; hunter gatherers rarely worked more than fifteen hours per week. How did work become the central organisational principle of our societies? What are the social, economic and environmental consequences of a culture of work? And what might a world where work plays a far less important role look like? In this major book, James Suzman charts a natural and cultural history of work. Drawing on field work at the interface between hunter gatherer societies, simple agricultural societies and the industrialised world, and integrating new insights from epigenetics, ethology, genomics, social anthropology, economics and evolutionary theory, it challenges the way we think about work today o and shows why automation may be the key to unlocking a more sustainable future. ...Show more
$15.00
AUD
Category: Fiction (8 to 12 years) | Series: The Treehouse
Andy and Terry have added 13 new levels to their treehouse and now it's even more out of this world than before! There's a soap bubble blaster, a GRABINATOR (it can grab anything from anywhere at any time), a time-wasting level, a toilet paper factory (because you can never have too much toilet paper), a room full of mechanical grandparents, a super long legs level, an extraterrestrial observation centre and the best bookshop-in-a-treehouse-in-a-tree-in-a-forest-in-a-book in the whole world! Well, what are you waiting for? Come on up! ...Show more
$30.00
AUD
Category: Political
What role did the queen play in the governor-general Sir John Kerr's plans to dismiss prime minister Gough Whitlam in 1975, which unleashed one of the most divisive episodes in Australia's political history? And why weren't we told? Under the cover of being designated as private correspondence, the lett ers between the queen and the governor-general about the dismissal have been locked away for decades in the National Archives of Australia, and embargoed by the queen potentially forever. This ruse has furthered the fiction that the queen and the Palace had no warning of or role in Kerr's actions. In the face of this, Professor Jenny Hocking embarked on a four-year legal battle to force the Archives to release the letters. In 2015, she mounted a crowd-funded campaign, securing a stellar pro bono team that took her case all the way to the High Court of Australia. Now, drawing on never-before-published material from Kerr's archives and her submissions to the court, Hocking traces the collusion and deception behind the dismissal, and charts the private role of High Court judges, the queen's private secretary, and the leader of the opposition, Malcolm Fraser, in Kerr's actions, and the prior knowledge of the queen and Prince Charles. Hocking also reveals the obstruction, intrigue, and duplicity she faced, raising disturbing questions about the role of the National Archives in preventing access to its own historical material and in enforcing royal secrecy over its documents. ...Show more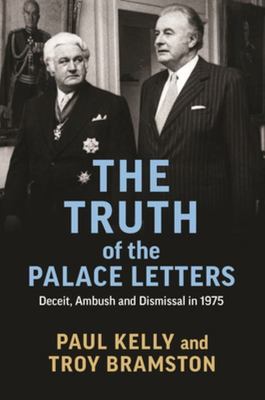 $30.00
AUD
Category: Political
In July 2020 the National Archives of Australia released the long-suppressed correspondence between Sir John Kerr and Queen Elizabeth II, written during Kerr's tumultuous tenure as Governor-General of Australia. The letters cover the constitutional crisis that culminated in Kerr's infamous dismissal of Labor Prime Minister Gough Whitlam in 1975. In The Truth of the Palace Letters Paul Kelly and Troy Bramston reveal their meaning and significance for understanding the dismissal. The analysis of these documents and their authors throws a revealing light on the connection between the Queen in Buckingham Palace and the Governor-General in Canberra. Coupled with newly discovered archival documents and interviews, Kelly and Bramston explain the implications of the letters for our Constitution, our democracy and the republic debate. ...Show more
$28.00
AUD
Category: Picture Books
From the #1 NEW YORK TIMES bestselling authors of P IS FOR PTERODACTYL comes another hilarious, fresh look at the English language! The hero had super vision. The hero had supervision. Man, a tea sounds great. Manatee sounds great! Sir Francies Bacon Sir, France is bakin'! What is going on here?! You ca n't believe everything you hear! A single word can have many different meanings. And sometimes two words that sound alike can be spelled completely differently. Ptolemy the pterodactyl is back to show us all how absurd and fun language can be when homophones, homonyms, and tricky punctuation are at play! No Reading Allowedallows children and their parents to laugh together while also learning something new. Perfect for baby gifts, birthday gifts, teacher gifts, and anyone who finds humor in the absurdity of the English language. ...Show more