$13.00
AUD
Category: Babies
Oh, goody! Hooray! It's bathtime today! Quack! Quack! Quack! Join Ducky for bath time fun! This waterproof adventure is the perfect book for bath time, high chair fun and on the go.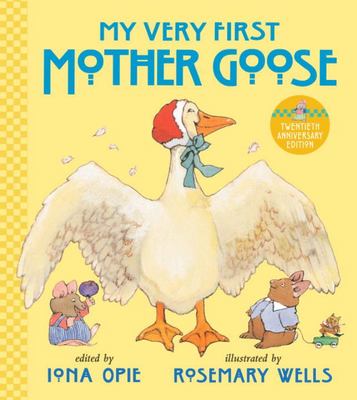 $30.00
AUD
Category: Babies | Series: My Very First Mother Goose
To a small child, words are magical. And the most magical of all are the beloved, venerable words of Mother Goose. Now folklorist Iona Opie has gathered more than sixty treasured rhymes in their most perfect, honest form. From "Hey Diddle, Diddle" and "Pat-a-Cake" to "Little Jack Horner" and "Pussycat, Pussycat," these are familiar verses that have been passed from parent to child for generations; these are the rhymes that are every child's birthright.   With watercolors by Rosemary Wells that may prove equally enduring, MY VERY FIRST MOTHER GOOSE captures the simple joy and the sly humor that are the essence of Mother Goose. Parents and children will find themselves exploring this volume together, savoring delightful details and funny surprises on every page. This is a book that promises hours of quiet smiles and merry grins for readers of all ages. ...Show more
$30.00
AUD
Category: Babies
The perfect gift for a new baby. A beautifully produced board book edition of beloved children's book creator Alison Lester's classic, Kissed by the Moon, packaged in a quality gift box alongside a super-snuggly blanket with satin trim and a beautiful moon and stars embroidered motif. This appealing gi ft set combines the velvety tactile appeal of a blanket for babies to snuggle alongside a board book edition of this classic story to share and treasure. May you, my baby, sleep softly at night, and when dawn lights the world, may you wake up to birdsong. Part poem, part lullaby, this gentle story celebrates a baby's wonder at our beautiful natural world. From much-loved Australian Children's Laureate, Alison Lester, comes a timeless book and gift set to share and to treasure. ...Show more
$14.00
AUD
Category: Babies | Series: Crinkly Book of Aussie Animals Ser.
Discover creatures from the Australian outback. Crinkly material and simple contrast illustrations designed for sensory stimulation and development.
$20.00
AUD
Category: Babies | Series: Baby Touch
Babies see first of all in black and white, and in bright, high contrast colours such as yellow and red. This padded cloth book includes simple images, black-and white illustrations and a touch-and-feel on every spread to help develop a baby's eyesight and engage their senses, making this the perfect fi rst book for children. ...Show more
$35.00
AUD
Category: Babies
A wonderfully illustrated and sumptuous collection of nursery rhymes for all ages, including many favorite rhymes as well as some that will be a delightful discovery. Originally published as The Cat and the Fiddle in 2011, this edition includes a new introduction by Jackie Morris--a spirited defense of the nursery rhyme, which she fears is in danger of being forgotten in a digital world. The beautiful and detailed watercolor paintings combine with more than 40 rhymes to make this a unique treasury and lifetime possession for children and adults of all ages. ...Show more
$20.00
AUD
Category: Babies
Award-winning author, Jeanne Willis, revamps all the favourite Mother Goose Nursery Rhymes. Think you know your favourite classic nursery rhymes? Read this picture book and think again! In this witty reworking of popular nursery rhymes, Georgie Porgie doesn't dare to make the girls cry, Little Bo-Peep' s sheep are all present and correct, thank you, and it's the queen, OF COURSE, who fixes Humpty Dumpty. With the combination of Jeanne Willis's brilliantly funny poems and charming, witty illustrations from Isabelle Follath, these nursery rhymes prove that girls can be the heroes of any story. This remixed nursery rhyme collection is the perfect gift book for any child (or adult!), to read aloud or enjoy alone. ...Show more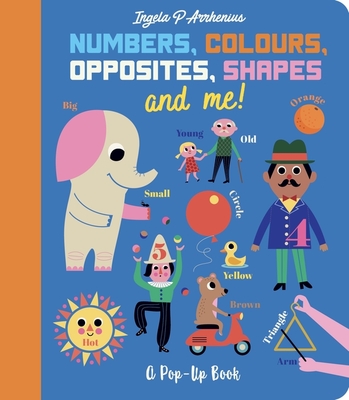 $28.00
AUD
Category: Babies
Lift the flaps in this engaging introduction to colours, numbers, shapes, opposites and the body for the very youngest readers. A quirky first concepts book with a pop-up on each spread from much-loved illustrator Ingela P Arrhenius.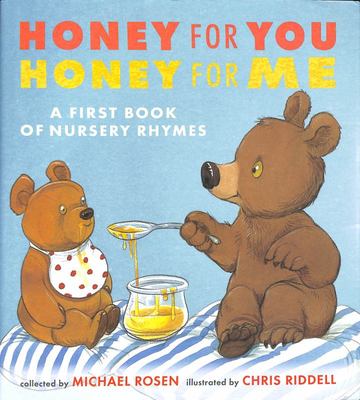 $33.00
AUD
Category: Babies
From Children's Laureates Michael Rosen and Chris Riddell, the bestselling team behind A Great Big Cuddle, comes a first book of nursery rhymes. Flying pigs, wobbling plates of jelly and a giant with a terrible fear of mice: welcome to the topsy-turvy world of nursery rhymes. Inspired by his lifelong f ascination with these wonderful, riddling rhymes, Michael Rosen has placed familiar playground songs beside forgotten gems for a seminal new collection, which Chris Riddell has brought to vivid life with his magnificent, exuberant pictures. Expect familiar faces, from little Jumping Joan to Miss Mary Mack-Mack-Mack – but also plenty of mischievous surprises. With over thirty rhymes to choose between, this is a book for families to share and treasure. ...Show more
$25.00
AUD
Category: Babies
Created by Rod Campbell for the very youngest animal enthusiasts, the Dear Zoo Snuggle Book features all the animals from the zoo in a super-soft fleece and peach-skin snuggle book. The elephant is too big, the lion is too fierce, the giraffe is too tall . . . but the perfect pet is there somewhere!A fa vourite with toddlers and parents for over thirty-five years, Dear Zoo is a classic, and this simple cloth edition is the perfect introduction to the much-loved story.Packaged in a high quality patterned gift box, the Dear Zoo Snuggle Book is a thoughtful gift for babies and toddlers. ...Show more
$14.00
AUD
Category: Babies | Series: TummyTime Ser.
Make the best of tummy time with your baby with this two-in-one fold-out book of colorful animals and high-contrast black and white This small and sturdy accordion book opens up to stand alone on a crib, carpet, or bed, making it easy for your baby to enjoy tummy time, all the time. One side features vi brantly illustrated creatures marching merrily along (an alligator bangs a big drum, a bear carries festive balloons) and the opposite side includes high-contrast black and white patterns and animals, perfect for baby's developing eyes. And with two reflective pages your baby can see him or herself and practice those future smiles Since the American Academy of Pediatrics and other top pediatric organizations around the world recommend tummy time to help "build the strength and coordination needed for rolling over, crawling, reaching, and playing" this book is not just fun, it's also good for your baby. Also available: TummyTime: Happy Baby. ...Show more
$13.00
AUD
Category: Babies | Series: Miffy
Miffy's uncle has come to visit and is going to take her on a trip. They fly up high and see the world from above. Award-winning UK poet, Tony Mitton, has worked closely with Dick Bruna's Dutch publisher to create new translations for the classic Miffy stories that are true to the books' original voice , and yet have a contemporary feel to the language that makes them appealing to the modern young audience. The translations beautifully convey the warmth and friendliness of the original Dutch whilst maintaining a style that is inimitably Miffy. ...Show more