$25.00
AUD
Category: Graphic Novels
Witches are real, and they are very, very dangerous. They wear ordinary clothes and have ordinary jobs, living in ordinary towns all across the world-and there's nothing they despise more than children. When an eight-year-old boy and his grandmother come face-to-face with the Grand High Witch herself, t hey may be the only ones who can stop the witches' latest plot to stamp out every last child in the country! This full-colour graphic novel edition of Roald Dahl's The Witches, adapted and illustrated by Eisner Award winner Penelope Bagieu, is the first-ever Dahl story to appear in this format. ...Show more
$26.00
AUD
Category: Graphic Novels
A feel-good story about a superhero whose superpower is her kindness. Bea loves helping friends and really wants to be a superhero, but none of the costumes she tries on are quite right. What makes an outfit super? A cape? A mask? They're just not her. Even her dog Woofs agrees. It's not until Bea resc ues and returns an injured bunny that she discovers the super suit that fits her personality. Bea is Bunnygirl! And she and Woofs are ready to help.   ...Show more
$15.00
AUD
Category: Graphic Novels | Series: The Baby-Sitters Club Graphix
Kristy, Mary Anne, Claudia, and Stacey are best friends and founding members of The Baby-sitters Club. Whatever comes up -- cranky toddlers, huge dogs, scary neighbors, prank calls -- you can count on them to save the day. Baby-sitting isn't always easy, and neither is dealing with strict parents, new f amilies, fashion emergencies, and mysterious secrets. But no matter what, the BSC have what they need most: friendship.Raina Telgemeier, using the signature style featured in her acclaimed graphic novels Smile and Sisters, perfectly captures all the drama and humor of the original novel ...Show more
$15.00
AUD
Category: Graphic Novels | Series: The Baby-Sitters Club Graphic Novel
THE LATEST BABY-SITTERS CLUB GRAPHIC NOVEL! It's the first day of eighth grade and one thing Mary Anne definitely doesn't expect is to meet Logan Bruno. He just moved to Stoneybrook. He has a dreamy southern accent, he's awfully cute... and he might be interested in joining the BSC. The baby-sitters s end him on a job with Mary Anne as a test, and they hit it off, but Mary Anne isn't sure of where their friendship could go. Life in the BSC has never been this complicated or this fun! ...Show more
$20.00
AUD
Category: Graphic Novels
In Pumpkinheads, beloved #1 New York Times bestselling author Rainbow Rowell and Eisner Award-winning artist Faith Erin Hicks have teamed up to create this tender and hilarious story about two irresistible teens discovering what it means to leave behind a place--and a person--with no regrets. Deja and Josiah are seasonal best friends. Every autumn, all through high school, they've worked together at the best pumpkin patch in the whole wide world. (Not many people know that the best pumpkin patch in the whole wide world is in Omaha, Nebraska, but it definitely is.) They say good-bye every Halloween, and they're reunited every September 1. But this Halloween is different--Josiah and Deja are finally seniors, and this is their last season at the pumpkin patch. Their last shift together. Their last good-bye. Josiah's ready to spend the whole night feeling melancholy about it. Deja isn't ready to let him. She's got a plan. What if--instead of moping and the usual slinging lima beans down at the Succotash Hut--they went out with a bang? They could see all the sights. Taste all the snacks. And Josiah could finally talk to that cute girl he's been mooning over for three years . . . What if their last shift was an adventure? ...Show more
$28.00
AUD
Category: Graphic Novels
A graphic-novel mystery adventure for eight- to twelve-year-olds in which a girl and boy uncover the secret that has corrupted their seaside town. "Haven't you always thought there's something WEIRD about this town, Miro?" Miro and Zia live in Aurora, a fishing town nestled in the shadow of an ancient c astle. Miro lives in his books; Zia is never without her camera. The day they meet, they uncover a secret. The fishing works, the castle, and the town council are all linked to an ill-fated 1930s Antarctic expedition. But the diary of that journey has been hidden, and the sea is stirring up unusual creatures. Something has a powerful hold over the town. With Zia determined to find out more, Miro finds himself putting aside his books for a real adventure. The Inkberg Enigma is an exciting adventure with a strong filmic narrative. ...Show more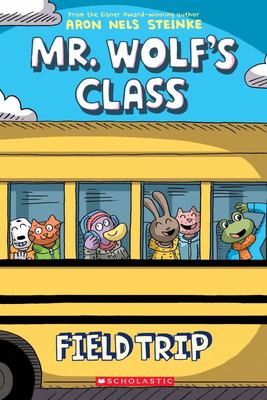 $20.00
AUD
Category: Graphic Novels | Series: Mr. Wolf's Class Ser.
Mr. Wolf's class ventures out on an exciting field trip to the forest! Mr. Wolf's students are going on a field trip! Everyone gets to sleep in log cabins, come up with fun camp names, and journey through the great woods. They'll be learning about the oldest and largest trees in the forest, exploring an abandoned ghost town, and toasting s'mores over a campfire. On top of all that, there are kids from a different school to meet!Meanwhile, Aziza and Randy must learn how to work through an argument, and Abdi is worried that he can't keep up with Henry and his new friends.There's much to do, see, and learn in the outdoors! ...Show more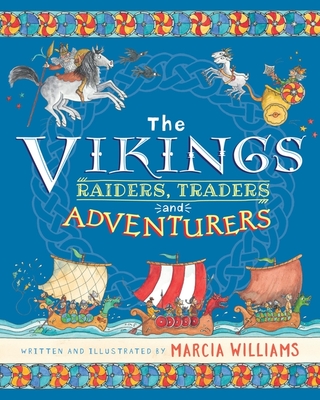 $28.00
AUD
Category: Graphic Novels
Travel back in time and discover the amazing world of the Vikings with award-winning author-illustrator Marcia Williams. Meet legendary warriors, daring explorers and clever kings in this colourful introduction to the Vikings. With Marcia Williams (and Loki!) as your guide, discover incredible stories o f Viking raids, voyages of discovery and conquered kingdoms. Told in comic-strip style and packed with jokes and facts, this is the perfect guide to the Viking world. ...Show more
Ghosts
by Raina Telgemeier
$17.00
AUD
Category: Graphic Novels
Catrina and her family are moving to the coast of Northern California because her little sister, Maya, is sick. Cat isn't happy about leaving her friends for Bahia de la Luna, but Maya has cystic fibrosis and will benefit from the cool, salty air that blows in from the sea. As the girls explore their ne w home, a neighbor lets them in on a secret: There are ghosts in Bah a de la Luna. Maya is determined to meet one, but Cat wants nothing to do with them. As the time of year when ghosts reunite with their loved ones approaches, Cat must figure out how to put aside her fears for her sister's sake -- and her own.Raina Telgemeier has masterfully created a moving and insightful story about the power of family and friendship, and how it gives us the courage to do what we never thought possible. ...Show more
$17.00
AUD
Category: Graphic Novels | Series: Smile
Raina wakes up one night with a terrible upset stomach. Her mom has one, too, so it's probably just a bug. Raina eventually returns to school, where she's dealing with the usual highs and lows: friends, not-friends, and classmates who think the school year is just one long gross-out session. It soon bec omes clear that Raina's tummy trouble isn't going away... and it coincides with her worries about food, school, and changing friendships. What's going on? Raina Telgemeier once again brings us a thoughtful, charming, and funny true story about growing up and gathering the courage to face and conquer your fears. ...Show more
$35.00
AUD
Category: Graphic Novels
Winner of the Kate Greenaway Medal 2020.     A stunning companion to Tales from Outer Suburbia, this collection of illustrated short stories is sure to delight Shaun Tan fans of all ages. Where can we live if not in each other's shadow?World-renowned artist Shaun Tan applies his unique imagination to a reflection on the nature of humans and animals, and our urban coexistence. From crocodile to frog, tiger to bee, this is a dark and surreal exploration of the perennial love and destruction we feel and inflict - of how animals can save us, and how our lives are forever entwined, for better or for worse.Tales from the Inner City is a masterful work, bearing all of Shaun Tan's trademark wit and poignancy in both its prose and exquisite illustrations. ...Show more
$22.00
AUD
Category: Graphic Novels | Series: Peapod Farm Ser.
This contemporary middle-grade graphic novel about family and belonging from New York Times bestselling author Lucy Knisley is a perfect read for fans of Awkward and Be Prepared. Jen is used to not getting what she wants. So suddenly moving the country and getting new stepsisters shouldn't be too much of a surprise. Jen did not want to leave the city. She did not want to move to a farm with her mom and her mom's new boyfriend, Walter. She did not want to leave her friends and her dad. Most of all, Jen did not want to get new "sisters," Andy and Reese. As if learning new chores on Peapod Farm wasn't hard enough, having to deal with perfect-at-everything Andy might be the last straw for Jen. Besides cleaning the chicken coop, trying to keep up with the customers at the local farmers' market, and missing her old life, Jen has to deal with her own insecurities about this new family . . . and where she fits in. New York Times bestselling author Lucy Knisley brings to life a story inspired from her own childhood in an amazing journey of unlikely friends, sisters, and home. "Funny, sweet, and real." -Jennifer & Matthew Holm, co-creators of the bestselling Babymouse series "This book is gorgeous. Highly recommended." -Kristen Gudsnuk, creator of Making Friends ...Show more